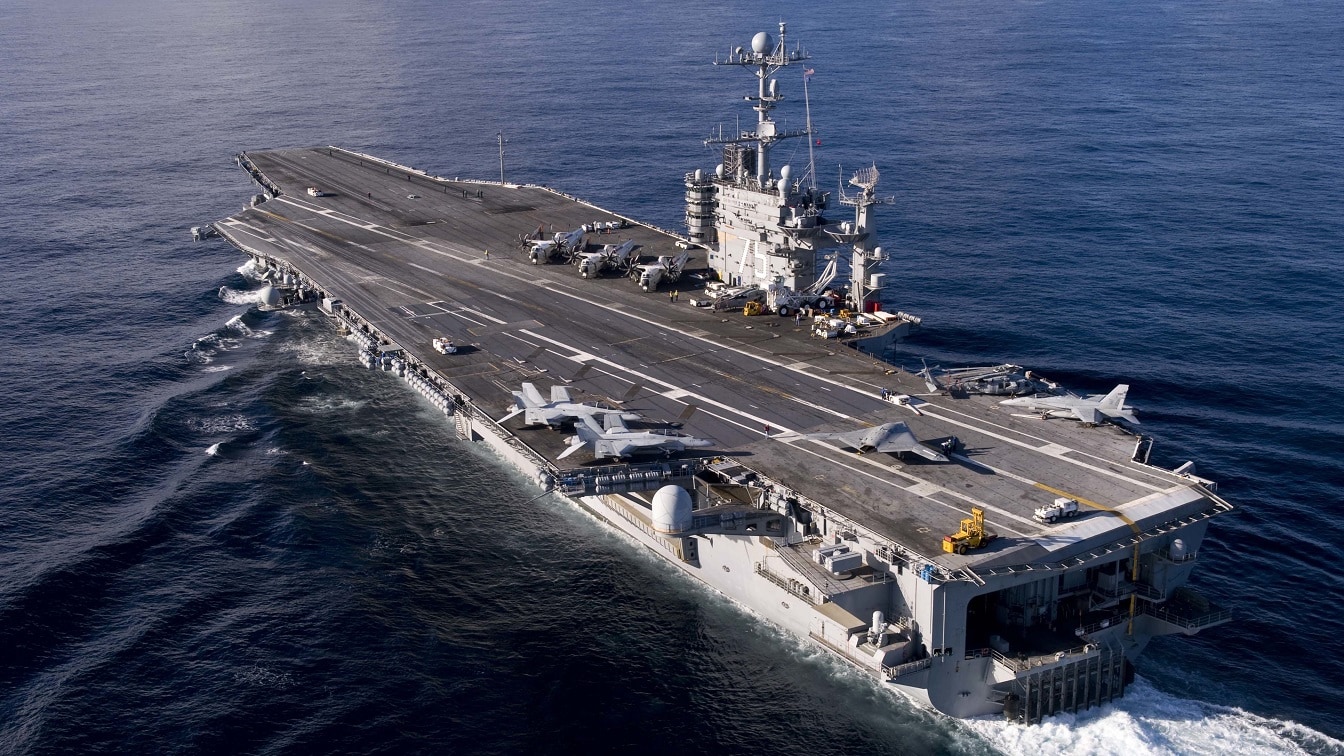 USS Harry S. Truman – A US Navy Aircraft Carrier Like No Other
The USS Harry S. Truman is an adversary's worst nightmare. Why? The official motto of the United States Navy's eighth Nimitz-class aircraft carrier is "The Buck Stops Here," a reference to a sign that sat on President Harry S. Truman's desk in the Oval Office. However, the battle flag of USS Harry S. Truman (CVN-75) – which was designed by the ship's crew – bears the words "Give them hell", a reference to the re-election campaign of President Truman in 1948. It is also a variant of the front sights carried by the companies of the 129th Field Artillery Regiment of the 35th Infantry Division and honors the battery under the command of United States Army Captain Harry Truman during World War I world.
The aircraft carrier bearing the name of the 33rd President has certainly been an adversary's worst nightmare and probably one that could indeed give him hell.
During the early stages of the 2003 invasion of Iraq, air wing crews flew nearly 1,300 combat sorties from the Mediterranean Sea, while in 2004, as part of a series of redesignations Navy-wide, he became the immediate superior in command (ISIC) of Carrier Strike Group 10 (CSG-10) and proceeded to the Persian Gulf. Harry S. Truman and Carrier Air Wing 3 (CAW-3) flew 2,577 sorties, logging nearly 13,000 flight hours, performing combat missions over Iraq. In 2016, the carrier, as the flagship of Carrier Strike Group 8 (CSG-8), took part in an eight-month air operation against ISIS as part of Operation Inherent Resolve.
In addition to combat operations, the CVN-75 also participated in multiple humanitarian missions, including in response to Hurricane Katrina in 2005.
She has won numerous awards that recognize the ship's excellence, including the Battenberg Cup in 2003 and again in 2021 for operational excellence during her 2020 deployment to the U.S. 2nd, 5th, and 6th Fleet areas of responsibility. Harry S. Truman has also won several Battle "E" awards, including the Marjorie Sterrett Battleship Fund Award, which is given to the most combat-ready ship in the US Atlantic Fleet. She has won this award twice, first in 2004 and again in 2009.
USS Harry S. Truman – Meet the Lone Warrior
CVN-75, nicknamed HST and Lone Warrior, was the first warship to be named after the 33rd President of the United States (POTUS), Harry S. Truman. She is currently homeported at Naval Station Norfolk, Virginia. The carrier was launched on September 7, 1996 by Newport News Shipbuilding, Newport News, Virginia, and commissioned on July 25, 1998.
The USS Harry S. Truman was initially the flagship of Carrier Group Two (CG-2), then the flagship of Carrier Strike Group 10 (CSG-10) and Carrier Strike Group 8 (CSG-8).
Like other Nimitz-class carriers, the CVN-75 is powered by two A4W nuclear pressurized water reactors, which drive four propeller shafts and can produce a maximum speed of over 30 knots (56 km/h) and a maximum power of about 260,000 engines. power (190MW). The carrier has an almost unlimited range as well as the ability to stay at sea almost indefinitely.
The aircraft carrier has an overall length of 333 meters, 317 meters at the waterline, and a beam of 41 meters. She has a full load displacement of 101,196 long tons (102,820 tonnes), while the ship's complement includes 558 officers and 5,454 enlisted (including the embarked air wing). As a floating military airport, Lone Warrior is 1,092 feet long while its flight deck measures approximately 4.5 acres. The warship is home to approximately 3,200 Sailors and Marines at sea as well as nearly 2,500 additional personnel who make up the Air Wing.
The carrier's carrier air wing consists of eight to nine squadrons of fixed-wing and rotary aircraft, including Navy and Marine Corps F/A-18 Hornets, EA-18G Growlers, MH-60R , MH-60S and E-2C Hawkeyes. Like other aircraft carriers in its class, the CVN-75 can use its four catapults and four arresting gear motors to launch and recover aircraft quickly and simultaneously.
Today's editor for 1945, Peter Suciu is a Michigan writer who has contributed to more than four dozen magazines, newspapers, and websites. He writes regularly on military hardware, the history of firearms, cybersecurity and international affairs. Peter is also a contributing writer for Forbes.