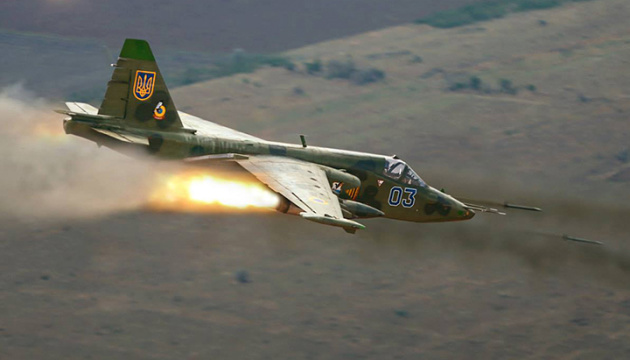 Ukrainian planes hit an enemy stronghold and air defense systems in the Kherson region
In the past 24 hours, Ukrainian defenders have killed 57 Russian invaders in the southern direction of Buh, Ukrainian planes hitting enemy positions and concentrations of military equipment.
Ukraine's Southern Operational Command said so in a Facebook post, Ukrinform reports.
"In the southern operational zone of Buh, as well as in general in the area of ​​​​responsibility, the situation is difficult, full of events, but controlled by the Defense Forces. The enemy is defending and trying to hold the occupied lines The enemy continues to fire on our positions, using multiple rocket launcher systems, large caliber heavy artillery, mortars, tanks, floating munitions," the report said.
The enemy has carried out unmanned reconnaissance over the past day, launching more than 40 spy drones.
According to the report, the attack and Ukrainian Air Force planes hit a stronghold and an area of ​​concentration of enemy forces and equipment in Bashtanka and Beryslav districts, respectively. Bombers and combat aircraft hit concentrations of enemy equipment in the Snihurivka region and air defense systems in the Kherson district.
Ukrainian rocket and artillery units carried out more than 140 fire missions, including in the area of ​​concentration of enemy manpower and equipment in Heroiske and Radensk.
The enemy lost 57 soldiers, two tanks, two large-caliber howitzers and three armored vehicles. One howitzer and two vehicles were damaged.
"The Black Sea Enemy Force Group includes three units without missile carriers in service," the command added.