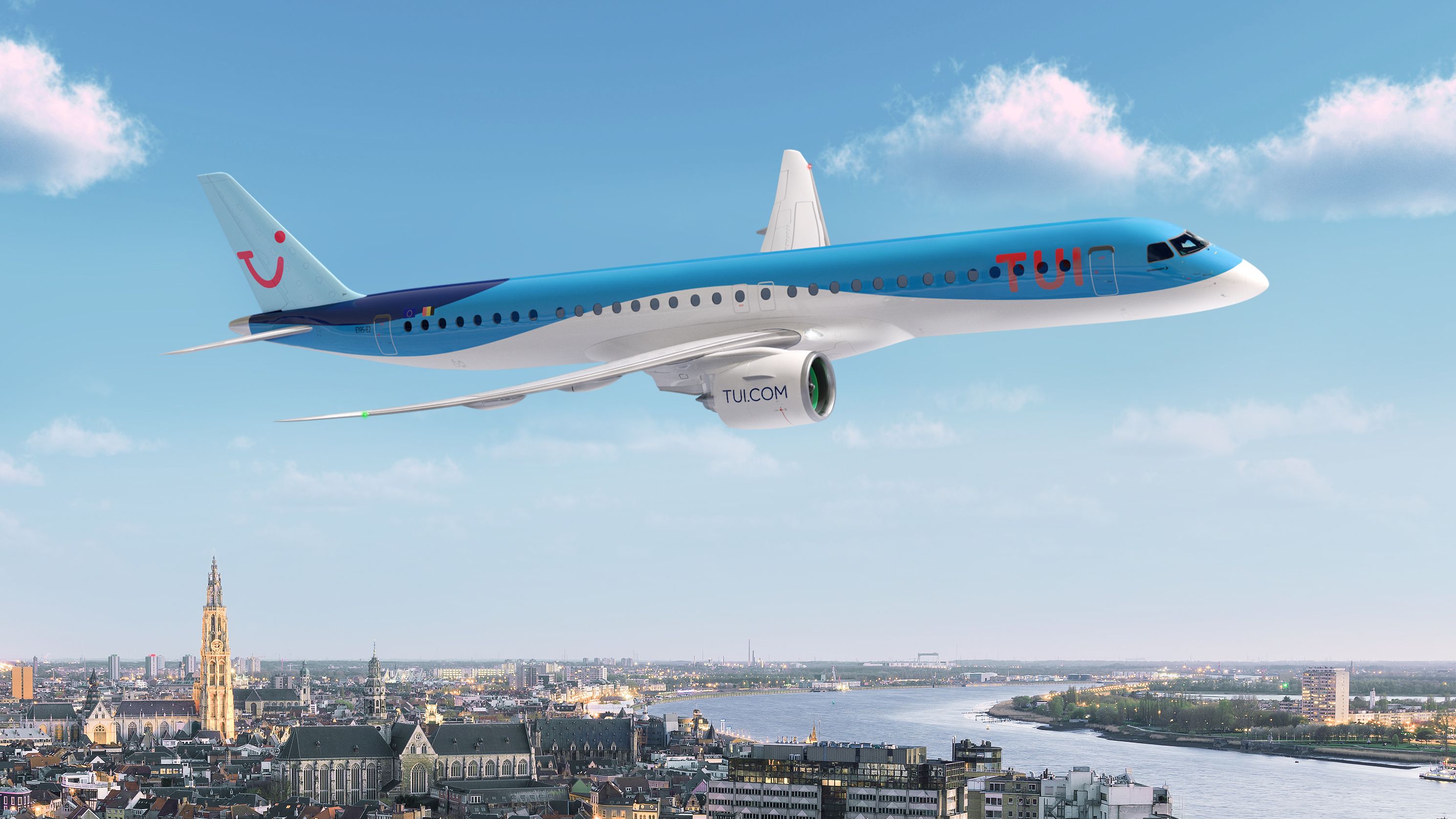 TUI Belgium will lease 3 Embraer E195-E2 aircraft to AerCap
Tui Belgium is expected to welcome the Embraer E195-E2 into its fleet from the first half of next year. Embraer revealed today that the airline has signed an agreement with AerCap to lease three of the aircraft to operate short and medium-haul routes, mainly from Antwerp.
While the Boeing 737 is the backbone of TUI's short-haul fleet, TUI Belgium also operates four Embraer E190s leased from three lessors, according to ch-aviation.com. Now, the latest generation of the Embraer family of commercial aircraft is set to join the TUI Belgium fleet following the signing of a long-term lease with AerCap.
Take three E195-E2
TUI Belgium is expected to take three E195-E2s from AerCap, with deliveries of these aircraft scheduled for January-June next year. According to Embraer, these planes will come with a single-class configuration that can accommodate up to 136 passengers with four seats per row. The planes are powered by Pratt & Whitney engines which consume less fuel while operating over a longer distance, emitting less CO2.
Photo: Embraer
TUI Belgium says it will mainly base these three aircraft from Antwerp, a city in northern Belgium. The airline's director, Marco Ciomperlik, remarked that,
"They will fly to more distant airports, which will allow us to expand to new holiday destinations from the north of Belgium"
About the E195-E2
The Embraer E195-E2 is the largest aircraft currently in the Embraer E2 family. According to the manufacturer, the aircraft can accommodate 132 passengers with a pitch of 31 inches. We can therefore extrapolate that the TUI E195-E2s will have a pitch just below.
With full passengers in a single class of seats and a reserve of fuel, the aircraft can cover a range of 2,600 nautical miles or 4,815 kilometers. From Antwerp, that means the plane could fly to all of Europe, parts of the Middle East, much of North Africa and even the tip of Canada.
Photo: Embraer
Antwerp operations of TUI Belgium
According to hourly data from Cirium, TUI Belgium has only scheduled 20 flights to five destinations from Antwerp this month. These are the following,
Malaga, Spain (AGP) – Eight flights
Alicante, Spain (ALC) – Six flights
Nador, Morocco (NDR) – Two flights
Corvera, Spain (RMU) – Two flights
Tangier, Morocco (TNG) – Two flights
Interestingly, only one additional destination should be on the schedule for next July so far (Innsbruck, Austria). However, the carrier is planning many more rotations, given the increase in summer demand. 68 rotations are scheduled for July 2023. 18 rotations are scheduled for Alicante alone, which almost equals the entire October 2022 schedule.
What do you think of TUI Belgium's commitment to fly the Embraer E195-E2? Let us know what you think and why in the comments below!