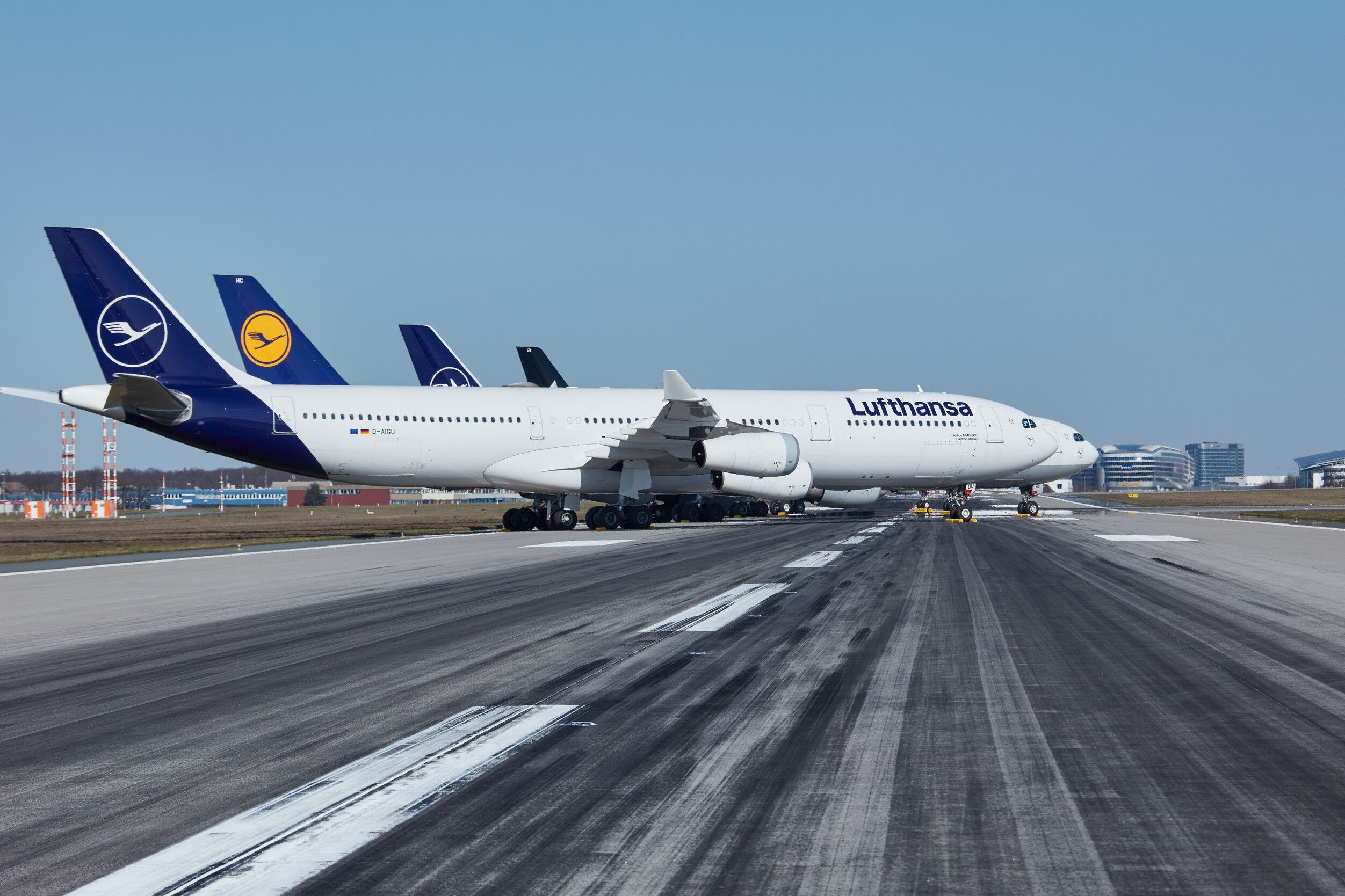 Although Airbus arrived a little too late on the "super jumbo" market, the aircraft manufacturer managed to land orders for a few hundred A340s during its production. With deliveries beginning in 1993 and ending in 2012, this year marks 10 years since the last pair of A340s were sold and delivered to a customer. Even though so much time has passed and much more efficient jets are coming to market, nearly 80 Airbus A340s are still listed as active at the time of writing. So today, let's take a look at the biggest operators of the type right now, and where you're most likely to find the Airbus A340…
unfortunate moment
The Airbus A340 is largely a story of bad timing. Designed and built to compete with the Boeing 747, this single-deck, four-engine aircraft was only a decade too late due to advances in engine power and reliability allowing for twin-engine jets. Changing regulations known as ETOPS allowed twin-engine aircraft to fly routes formerly reserved for quadjets. Thus, the Boeing 777 took a lot of market share from the A340 because it offered competitive range and capacity with better economy.
According to Planespotters.net, there are 79 A340s listed as active with around 35 more quad-jets listed as parked and around 87 more listed as stored. Given the aircraft type's status as old and inefficient, it's debatable whether the jets listed in storage will actually be returned to service. Although a handful of stored Lufthansa A340-600s may eventually be reactivated, the three SAS A340-300s are unlikely to leave their current home at the Marana storage site in Arizona. Those listed as parked have a much better chance of flying again, but there's always the possibility that their status will eventually change to stored.
The A340 ceased production in 2011. Photo: Lufthansa
Azal Azerbaijan Airlines is an example of an airline that questioned the fate of its A340s. Although it currently has only one A340-600 actively providing government VIP services, the carrier was expected to end A340-500 operations in mid-2021. However, he brought them back later that year. Although the pair of planes are parked at the moment, with no scheduled passenger services for the rest of 2022, it is still possible that Azerbaijan Airlines will bring back one or both planes as unscheduled substitutions.
We mention all of this to make it clear that there could be more A340s flying in the future – but that's an unlikely prospect, at least for the majority of owners who have decided to park or store their quads.
Active commercial passenger operations
So which airlines are you most likely to get a flight on an Airbus A340 these days? Well, unfortunately, that's not a very long list. In terms of passenger airlines, we have the following operators:
Lufthansa
German carrier Lufthansa has the largest active fleet of A340s with 19. These are divided into 15 -300s and four -600s. Eight other quadjets are parked and are also a mix of -300 and -600. In early March, the airline welcomed the Airbus -600 back to active operations. The plan calls for the gradual return to service of a total of five -600s, providing additional capacity for the airline over the coming months. Sent to storage at the start of the pandemic, the -600s have been returned to service to offer more first-class seating – a cabin missing from some of its other long-haul fleets.
As we mentioned in our article on the Lufthansa fleet, this temporary move will end when the airline takes delivery of the A350-900s equipped with a first class cabin. The first of these is scheduled for delivery in July 2023. Lufthansa plans to implement a one-in-one-out policy, which means that each time a first-class Airbus A350-900 arrives, a A340-600 will be withdrawn. Commenting on the reactivation at the end of 2021, an airline spokesperson said five -600s would be reactivated for the summer flight schedule to Munich.
Lufthansa is one of the biggest operators of the Airbus A340 these days. Photo: Lufthansa
SWISS
Meanwhile, another Lufthansa Group carrier, Swiss International Airlines (better known as Swiss), has five active A340-300s. At the same time, another member of the Lufthansa Group, the leisure-oriented carrier Edelweiss Air, actively operates four A340-300s.
SWISS is a member of the Lufthansa airline group. Photo: SWITZERLAND
More Ultra
Spanish long-haul airline Plus Ultra has two -300s and one -600. From their Madrid hub, the -300s fly fairly regularly to Lima and Caracas while the -600s have operated mainly between Marid and Chengdu in recent months.
Aseman Airlines and Mahan Air
Outside of Europe, Iran seems to be the second best place to take the A340 for a ride. The country's Mahan Air is listed as having seven active A340s, a mix of -300s and -600s. Another Iranian airline, Iran Aseman Airlines, has only one A340-300 in service, operating regular flights between Tehran and Istanbul.
Kam Air and Syrian Air
Next door in Afghanistan, Kam Air operates three A340-300s. These provide regular services from Kabul to cities such as Dubai in the United Arab Emirates and Jeddah in Saudi Arabia. Meanwhile, Syrian Air's only active A340-300, registered YK-AZA, operates routine service from Damascus to Dubai, Abu Dhabi, Sharjah and Cairo.
Conviasa
In South America, Conviasa in Venezuela apparently has four active A340s: one -200, one -300 and two -600s. Contrary to the trend of A340 abandonments, Conviasa received its A340-600 at the end of March. Registered YV3533, this jet is the first of three it will receive in 2022. Indeed, the airline will take delivery of another Airbus A340-600 and an A340-500 in the coming months!
Azman Air and South African Airways
And finally, in Africa, we have two operators. First there is the Nigerian Azman Air, which owns a single ex-Virgin Atlantic A340-600, registered 5N-AAM. This one operates between the Nigerian city of Kano and Jeddah and is fitted with an incredibly unique and possibly awkward pair of business class seats located in front of 411 economy class seats.
To the south, South African Airways has a single -300 which it flies regularly between Johannesburg and Lagos. The plane, registered ZS-SXF, flies occasionally from Cape Town and periodically serves the Ghanaian capital Accra.
Government and wet lease operations
The remaining active A340s fall mainly into two categories: VIP government transport or wet lease services. As for governments using the A340 as presidential or VIP transport, we have the previously mentioned Azerbaijan, but also several governments in the Middle East. These include Qatar, Egypt, Libya, Saudi Arabia, Iran, Kuwait and Turkey. In North Africa, the Algerian government has an A340-500 while the Kingdom of Eswatini has a single -300. The Royal Thai Air Force has an active -500 while the German Air Force also operates a pair of A340-300s.
The Egyptian government could be an operator that could soon retire its sole A340-200. This is because he acquired a Boeing 747-8i ordered by Lufthansa, which is now registered SU-EGY. The plane was previously stored in the California desert until it found its new owner. At the moment, the double decker is in Hamburg, probably at Lufthansa Technik for the installation of its new VIP interior.
Lufthansa Technik emphasizes that its services offer more than just creating a beautiful cabin. The company states the following about its VIP cabin services:
"We are able to conceptualize interiors for all international styles, always using the best luxury components and materials. From sleek government style to rich baroque or cool Asian, our team of designers and engineers are ready to show off endless possibilities.
Well, that certainly looks like a big step up from a 28-year-old A340-200! Even though the never-used 747-8 is now over 11 years old!
And for leases, there is a notable settlement this summer. Air Senegal will increase its service from Dakar to Paris on certain weeks between June and September. The airline is wet-leasing 9H-ZMK, a 17-year-old A340-300 from Airhub Aviation in Malta. He will eventually change this to a different A340-300, one operated by Hi Fly Malta registered 9H-SZN.
Azerbaijan Airlines still operates an A340 for government purposes. Photo: Azal
Conclusion
At first glance, the Airbus A340 may no longer be in production, but it is far from extinction. However, unless you're a head of state or other government VIP, there aren't many places you can board one of these planes. Depending on your nationality, those in the Western world will find their best chances with Lufthansa, Swiss or Edelweiss. On the other hand, those in the Middle East certainly have some options with a number of airlines as well.
It is quite interesting to observe that there are more A340 operators than pilots of the other Airbus quadjet, the A380. Indeed, if sanctions against certain countries persist, it may be possible that the A340 will outlive the A380 in terms of active commercial service. The A380, after all, is much more expensive to operate and is not able to access as many airports as its smaller but bigger sibling… it will take another 20 years to see how the numbers change!
Have you ever flown on an Airbus A340? And do you think there is a possibility that it can outlast the A380? Share your experiences and opinions by leaving a comment!