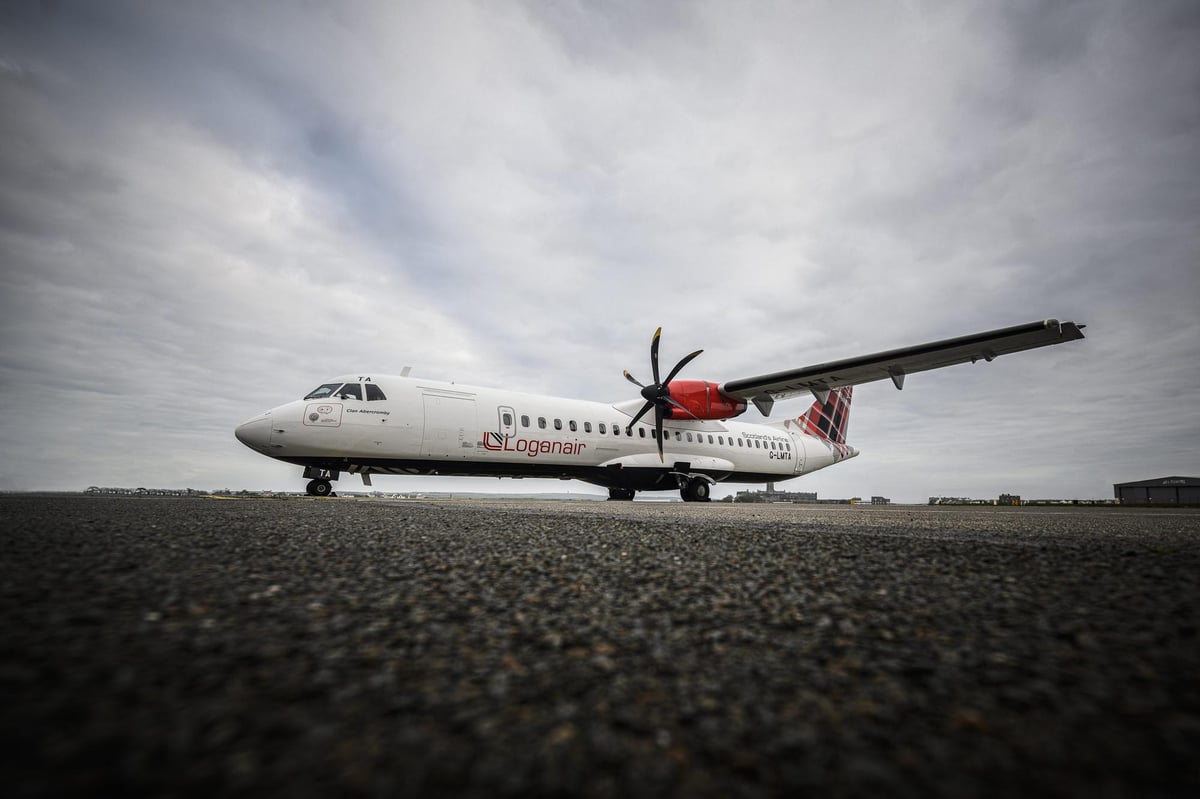 Scottish regional airline Loganair lands new, greener plane in multi-million pound investment
The company, which claims to be the UK's largest regional carrier and currently operates 42 planes on 70 routes, will say goodbye to its remaining eight Saab 340B passenger jets by July through a sales agreement of $12m (£10.7m) as it accommodates eight new next-generation ATR turboprops will enter service next year.
The new planes are expected to cut carbon emissions per seat by more than a quarter compared to the Saab 340s that operate on Loganair's Highland and Island routes, as part of its commitment to become fully carbon neutral by 2040. Leasing company Abelo joins Nordic Aviation Capital and Falko as aircraft suppliers to Loganair, with the airline recently reporting a return to profitability.
The completed ATR fleet will have an average age of eight years, with more passenger seats as well as more cargo and mail space for its charter services. The new ATR aircraft are also equipped to use satellite approach systems, allowing operations to continue safely when visibility is poor – a common problem in all Highland and Island destinations.
The airline will welcome eight more next-generation ATR turboprops (pictured) into service in 2023. Image: Contributed
Loganair, which is based at Glasgow Airport, already has 15 next-generation ATR turboprops in service, including four of the 72-seat ATR 72-600 passenger aircraft and four dedicated ATR 72-500 freighter aircraft which have supported the mail delivery. flights to and from the Highlands and Islands in recent months.
Training of Loganair pilots, cabin crew and engineers to work on the new aircraft is ramping up ahead of its introduction on routes from Glasgow to Islay, Benbecula, Sumburgh, Kirkwall, Derry and Stornoway in the first quarter of 2023.
Loganair Managing Director Jonathan Hinkles said: "The Saab 340s have served us and our customers superbly well over the past two decades, but it's time for us to move on to a new generation of planes. Our multi-million pound investment in ATR aircraft will preserve connectivity for future generations within the Highlands and Islands air network on which so many communities depend. We serve the vast majority of air routes in the Highlands and Islands on a purely commercial basis, without direct subsidy – unlike other forms of transport – and finance the introduction of new aircraft ourselves.
ATR boss Nathalie Tarnaud Laude said: "We are delighted to see Loganair – one of Europe's most successful and oldest regional airlines – switch to ATR aircraft. They are the most environmentally efficient of any aircraft in their class and offer greater comfort and a quieter cabin for customers. With over 1,600 ATR aircraft in service worldwide and production continuing today, we are confident that Loganair has made the right choice for its future fleet, and we look forward to further developing our partnership over the coming years. .