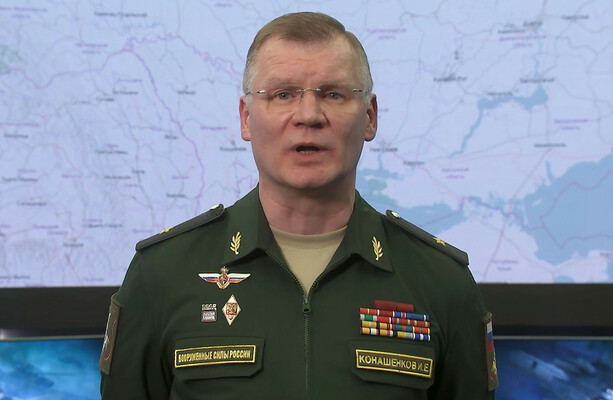 Russia warns countries against hosting Ukrainian military planes
Updated 2 hours ago
RUSSIA HAS WARNED Ukraine's neighbours, including NATO member Romania, against hosting military planes from Kiev, saying they could end up embroiled in an armed conflict.
"We know for certain that Ukrainian fighter jets flew to Romania and other neighboring countries," Russian Defense Ministry spokesman Igor Konashenkov said during a video briefing.
"The use of the airfield network of these countries to base Ukrainian military aviation with the subsequent use of force against the Russian army can be considered as the involvement of these states in an armed conflict", a- he added.
Konashenkov also claimed that "practically all" Ukrainian combat-ready aircraft were destroyed.
Ukrainian President Volodymyr Zelensky has repeatedly demanded that Western powers impose a no-fly zone over Ukraine to prevent further Russian attacks.
Russian President Vladimir Putin has warned that Moscow will consider any country imposing a no-fly zone over Ukraine as having entered the military conflict.
Earlier, US Secretary of State Antony Blinken said the United States was "actively working" on a deal with Poland to supply Ukraine with jets to fight Russian invaders.
The deal, according to reports, could involve Poland handing over its existing MIG-29s, a Soviet/Russian-made jet fighter that Ukrainian pilots are familiar with, and the United States would then supply its F-16 fighters to the Poland as a replacement.
US officials, including Blinken, had played down the possibility of a NATO country supplying beleaguered Ukraine since earlier this week.
But speaking in Moldova today, Blinken confirmed he was being actively discussed.
"I can't talk about a timeline, but I can just say we're looking at it very, very actively," he told reporters.
"We are currently actively looking into the issue of aircraft that Poland could supply to Ukraine and considering how we might be able to replace if Poland decides to supply these aircraft."
The comments came a day after Blinken met Ukrainian Foreign Minister Dmytro Kuleba at the Polish-Ukrainian border and Kuleba pressed him for the plane.
After 10 days of a brutal war, Kuleba said, "The highest demand we have is for fighter jets, attack jets and air defense systems."
"If we lose the sky, there will be a lot more blood on the ground," he said after the meeting, with Blinken standing by his side.
While a significant portion of the Ukrainian Air Force has remained intact since the start of the war on February 24, both Ukraine and Russia have suffered significant losses and neither is in control the airspace above the country.
But Russia has a massive air force which, if fully mobilized, could decimate Ukraine.
#Open Journalism
No news, bad news
Support the review
Your contributions will help us continue to deliver the stories that matter to you
Support us now
US Secretary of State Antony Blinken, left, and Ukrainian Foreign Minister Dmytro Kuleba are pictured meeting in Korczowa, Poland at the Ukrainian-Polish border crossing.

Source: Alamy Image Bank
Escalation risks
The United States had resisted a deal, along with some key NATO members, fearing that Russia would interpret it as NATO – Poland is a member – actively joining the war in Ukraine and sparking a conflict much wider.
But supporters of supplying Ukraine with more planes from a NATO country argue that the alliance, and the United States in particular, has already given Kiev's army tons of weapons and of lethal ammunition every day since the start of the war.
Another problem, however, is that the United States has no F-16s rolling off the production line to easily supply Poland, which also faces a potential threat from Russia and needs planes to to defend oneself.
Any deal would require White House approval and the backing of the US Congress, as well as likely backing from NATO.
Congress would likely agree, after Ukrainian President Volodymyr Zelensky yesterday urged lawmakers on a conference call to provide more weapons.
But Poland didn't necessarily agree with the idea either.
"Poland will not send its fighter jets to Ukraine and will not allow the use of its airports. We are helping significantly in many other areas," the Prime Minister's Chancellery wrote in a tweet today.
– ©AFP 2022