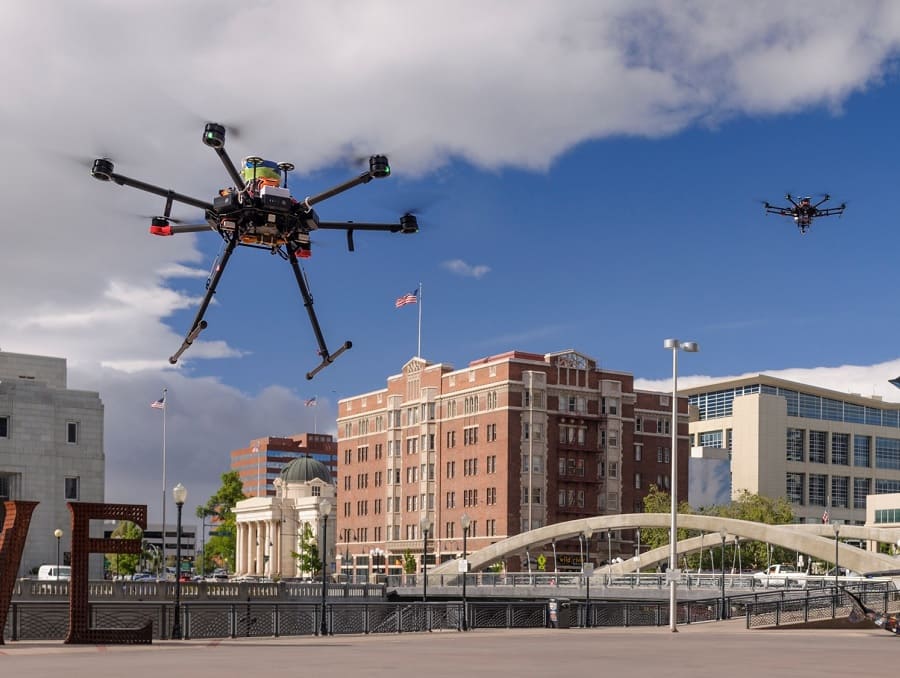 Nevada Unmanned Aircraft Systems Test Site Moves to University
The University of Nevada, Reno, has launched Nevada Autonomous, a new program to manage and improve operations at the Nevada Unmanned Aircraft Systems (UAS) Test Site. The UAS Test Site service was created following the designation of Nevada by the Federal Aviation Administration as one of seven states to serve as a development and test center for autonomous unmanned vehicles and systems.
Nevada Autonomous will be responsive to statewide opportunities and will collaborate with projects developed by the University of Nevada, Las Vegas and the Desert Research Institute. The new alignment better integrates UAS testing activities with the aeronautical, autonomous vehicle and robotics research that takes place at the three research institutes of the Nevada higher education system, while continuing to facilitate testing opportunities as well. with business, industry and government agencies. Safety will remain a priority.
The transition of this service from the Governor of Nevada's Office of Economic Development (GOED) to the University follows the announcement of the University's appointment to one of four teams selected for the University Leadership Initiative of NASA, a program to support NASA's aeronautical research objectives. The team brings together academic and industry expertise and includes Sierra Nevada Corporation as an industry partner. GOED helped facilitate the development of the project proposal and the involvement of Resolute ISR, a Carson City-based manufacturer of Resolute Eagle, a UAS platform.
"This is the culmination of the work of the Nevada Governor's Office of Economic Development as Nevada's Unmanned Aircraft Systems (UAS) test site and with Resolute ISR," said Kris Sanchez, deputy director of GOED. "We are very pleased that the University of Nevada, Reno has been included in this program and it is a natural progression for it to be housed at the University."
"With Nevada Autonomous, we will continue and strengthen Nevada's role as a national leader in autonomous testing," said Brian Sandoval, president of UNR. "This is an opportunity that builds on the technology applications taking place at Nevada's research institutes, our commitment to collaboration and, of course, Nevada's unique geography."
The Nevada Autonomous Team plans to create a corridor beyond visual line of sight for air and vehicular testing that stretches from Reno to Las Vegas, a north-south connection stretching about 500 miles.
"This is a great win for the University of Nevada Reno and creates new opportunities to advance all autonomous vehicle operations in the State of Nevada," said Blair Smith, site operator of the site. trial of the Nevada UAS which runs the Nevada Autonomous Program. "This includes connecting Reno and Las Vegas with an autonomous vehicle corridor – both land and air."
Nevada Autonomous is part of NUR's Nevada Center for Applied Research, which provides business and industry access to the institution's state-of-the-art laboratories, equipment, expertise and services. Opened in 2015 and supported by the Nevada Knowledge Fund through GOED, the Nevada Center for Applied Research has helped secure more than $32.6 million in grants, contracts, gifts, and agreements, and its affiliates have created more of 130 jobs.
For the NASA University Leadership Initiative project, UNR and SNC will work with the lead institution, University of Illinois, Urbana-Champaign, and team members Georgia Tech, Massachusetts Institute of Technology, North Carolina A&T State University and Lockheed Martin. The team's proposal is designed to support NASA's Advanced Air Mobility campaign and provide reliable autonomy tools to help aircraft fly safely in complex airspace. In support of NASA's goal to help students gain experience in robotics and aeronautics research, Resolute ISR will select four initial university engineering students as interns, and plans to add four. others by the end of the year.
Note: Gregory Bortolin, Director of Communications at GOED, and Jane Tors, Director of Academic Research Communications, contributed to this story.