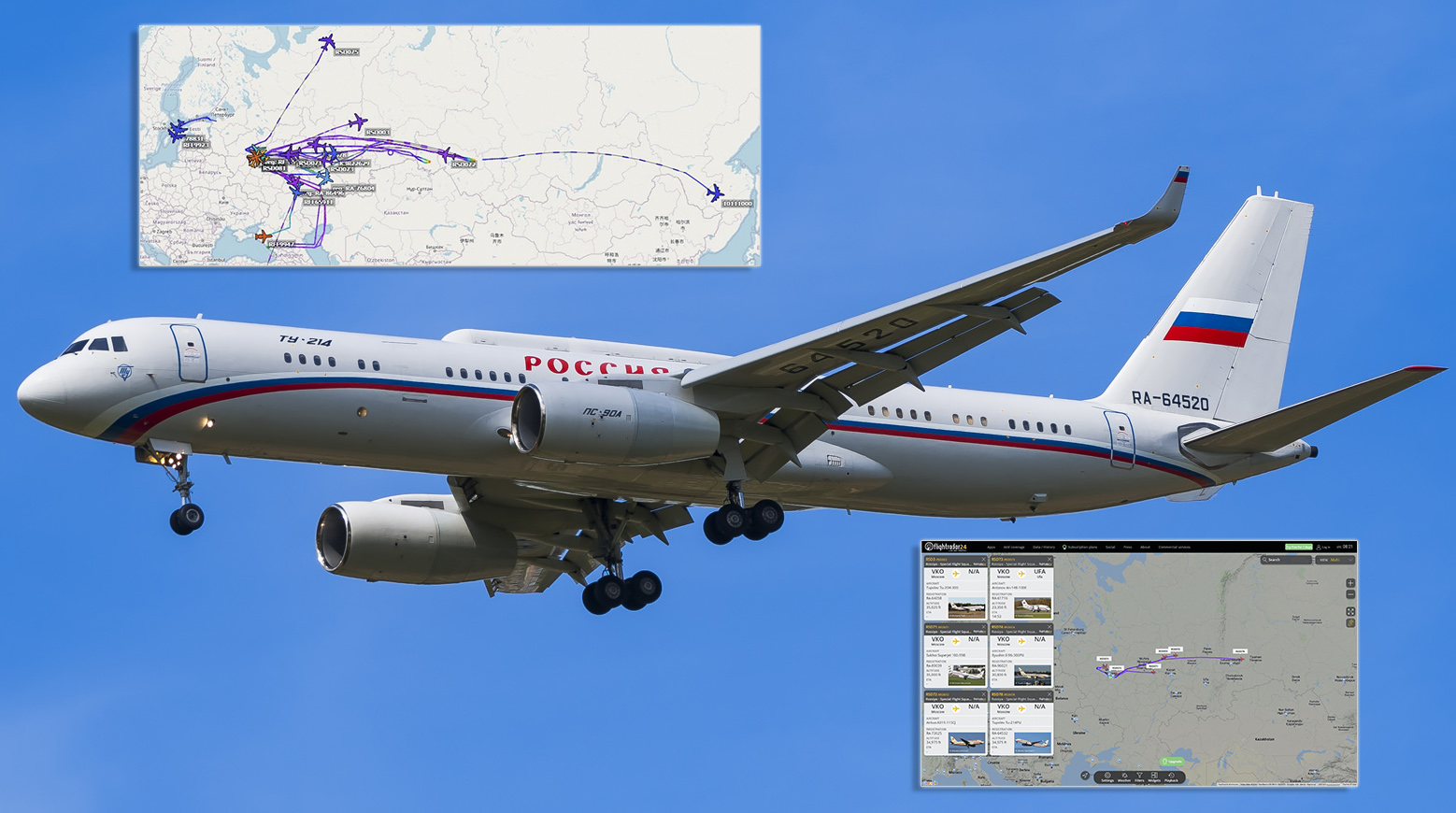 Influx of Russian special mission planes from Moscow fuels wild speculation
Social media went into a frenzy as more than a dozen planes (tracked online) took off from Moscow and nearby airports heading mostly east. Many of those flights have since returned to the Russian capital.
Something not exactly usual has been spotted on flight tracking websites lately, with more than a dozen Russian Air Force and Special Flight Detachment Rossiya flights being tracked leaving Moscow and nearby airports in various directions, mostly to the east. Such an increase in flights in a short time, as expected in this time of international crisis following the ongoing invasion, rounds off many theories about what is really happening in Russia.
This volume of aircraft movements can mean something but it can also mean nothing at all, since no one knows the real reason for these flights. Some of the outlandish theories prevalent online include an evacuation of Russian government officials from Moscow, an emergency meeting, nuclear war training or even a nuclear alert. Instead of speculating on the reason, let's just talk about the facts and try to understand what we see.
What is happening here?
-RuAF Tupolev Tu-204-300 RSD3
-RuAF Sukhoi Superjet 100-95B RSD71
-RuAF A319-115CJ RSD72
-RuAF An-148-100E RSD73
-RuAF Ilyushin Il-96-300PU RSD74
-RuAF Tupolev Tu-214PU RSD78
-RuAF Tupolev Tu-214SR RSD79
-RuAF SuperJet 100-95B RSD80 pic.twitter.com/FcmbtpbyNZ

— Manu Gomez (@GDarkconrad) March 17, 2022
I've put together an animation of the recent movements of all RSD* aircraft over the past few hours. pic.twitter.com/c6QhqsBkja

— Bunker Punx 🛹بونكر بانكس (@ikoosh) March 17, 2022
First, let's talk about their flight directions.
As you can see from the screenshots, the planes are heading mainly towards the east of the country. A simple reason for this is the current ban on Russian flights from all European countries. So even if these planes were to fly overseas, they would have to fly in all prohibited airspace. In fact, only a few of these flights left the country, with a few Il-76s bound for Kaliningrad and a Tu-154 bound for Syria.
Another detail concerns the planes concerned, which are standard freighters, VIP planes and special mission planes. Among them are the Tu-214PU and Il-96-300PU airborne command posts and the Tu-214SR communications relay aircraft. Their specific presence in flight is not unusual, as they can often be tracked online. Some have noted that such a high number of thefts is not unusual either, although they are spread throughout the day over a longer period.
And I guess I still feel the same.

I would see on average 15 to 20 planes during the week. At the time, I had fewer codes in my database. It could even be attributed to this lack of data. pic.twitter.com/HsG85VDGgB

– Evergreen Intel (@vcdgf555) March 17, 2022
Now some of these Rossiya flights are returning to Moscow or have already arrived.

This behavior happens EVERY DAY. The only thing that has changed is their direction, heading east, due to flight restrictions.

Anyway, I wouldn't run to your bunker for that. pic.twitter.com/3QbpQvYfQL

– Evergreen Intel (@vcdgf555) March 17, 2022
Interestingly, many of these flights have already returned to their departure airfields. Among the destinations observed are Novosibirsk, Kaliningrad, Kurgan, Kogalym, Tyumen, Omsk, Ufa. Some of these planes landed and departed some time later, some seemed to start holding orbits instead, while a few Il-96s are performing longer range flights.
One of the reasons why all these flights have generated so much interest is the fact that part of these planes belong to Rossiya. The Rossiya Special Flight Detachment is in charge of special mission aircraft, such as the Tu-214SR, Tu-214PU and Il-96-300PU mentioned earlier in this story, and VIP transport aircraft. The special unit flies the Russian equivalent of the most famous American VC-25, E-4B Nightwatch and E-6B TACAMO.
Russian Air Force Tupolev Tu-214PU
airborne command post RSD78 entering Novosibirsk. pic.twitter.com/RY8pJ3GXzq

— Manu Gomez (@GDarkconrad) March 17, 2022
RuAF Tupolev Tu-214SR RSD79 (Airborne Communications Relay) circling near Kurgan. pic.twitter.com/iBssPNqKch

— Manu Gomez (@GDarkconrad) March 17, 2022
Since the unique missions of this unit, its flights always generate some interest online. However, it should be noted that they do not always transmit their transponder signal in the clear, which means that in some cases they are "invisible" on flight tracking websites. As we have noted many times when NATO planes were visible online, if they pass on their information, they know their trail is visible to everyone online and they want to be seen. Whatever the reason for today's missions, it seems likely that they wanted to be seen (or didn't need to cover their tracks).
"It's no secret that we're here, and we don't want it to be a secret," said the tactical director aboard the NATO E-3 AWACS. Rather clear, isn't it?

—David Cenciotti (@cencio4) March 11, 2022