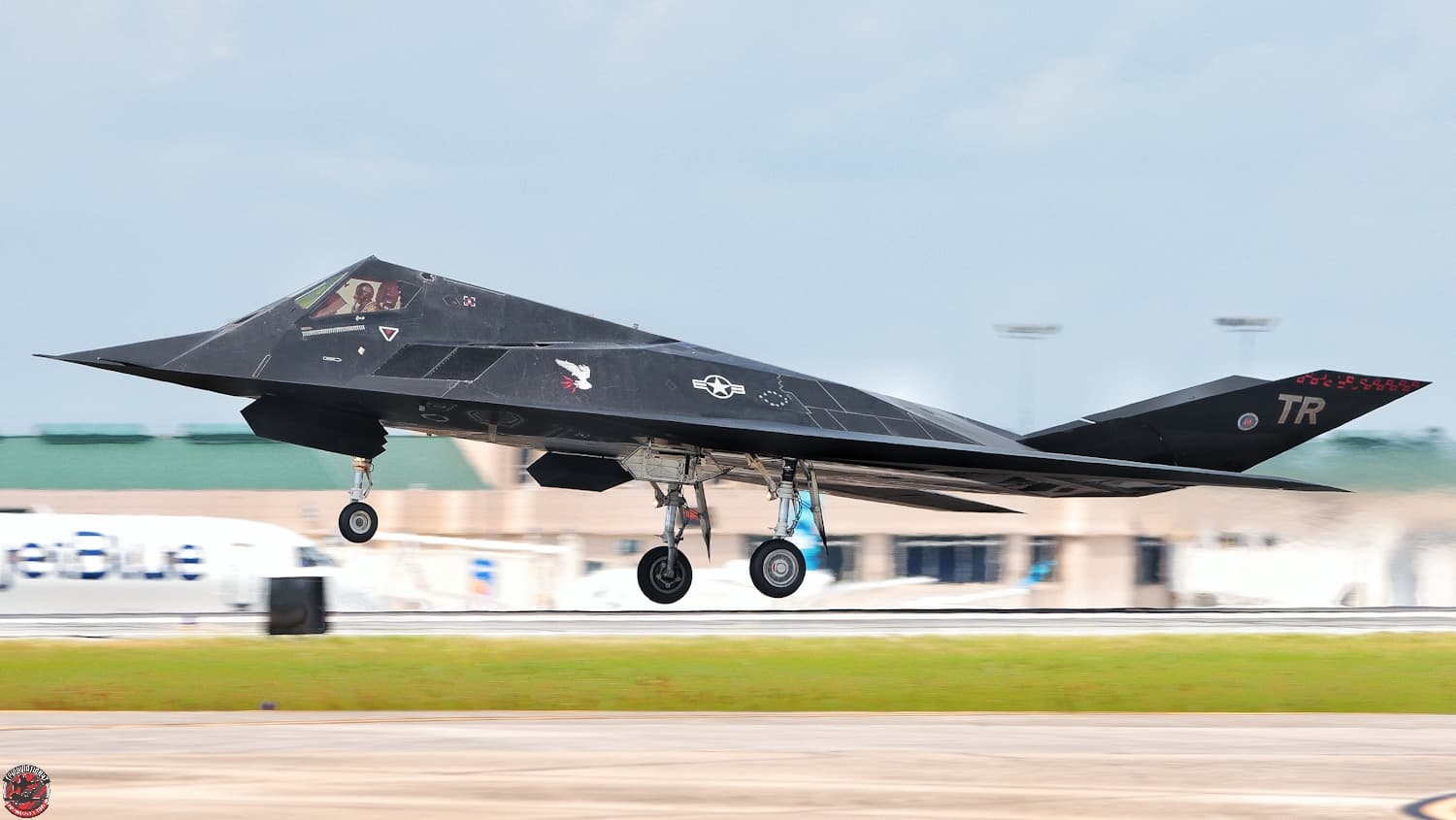 Exclusive photos of the F-117 stealth aircraft currently participating in the "Sentry Savannah" exercise
An F-117 Nighthawk takes part in an exercise at the Air Dominance Center in Savannah.
Sentry Savannah is the Air National Guard's largest fourth- and fifth-generation counter-air exercise, held annually at the Air Dominance Center at Air National Guard Base Savannah, Georgia. One of four combat readiness training centers in the United States, the Air Dominance Center (ADC) conducts Air-to-air combat training missions for 4th and 5th generation reservists and active duty fighter pilots.
From May 2-15, Sentry Savannah allows fighter units from across the country to come to Savannah to train together on integrated tactics such as ground training, offensive/defensive anti-aircraft missions, missile defense cruising and weapons drop training on the range.
The latest iteration of the exercises brought together more than 1,300 Airmen, supporting a force of 55 aircraft from many different units across the country. In particular, the Air National Guard units and aircraft participating in the exercise are: 192nd Fighter Wing Virginia ANG with the F-22; 159th FW South Carolina ANG with the F-16; 325th FW Florida ANG with the F-22; 117th Air Refueling Wing Alabama ANG with the KC-135; 190th ARW Kansas ANG with the KC-135; 157th ARW New Hampshire ANG with KC-46 and 117th Air Control Squadron. The active-duty 325th FW from Tyndall AFB, Fla., with F-22s and T-38s also participates in Sentry Savannah, with the reserve 419th FW from Hill AFB, Utah, attending exercises with the F-35A.
But, more interestingly, in addition to the official participants, there is another whose presence has not yet been made public: the F-117 Nighthawk from Tonopah Test Range. In fact, an F-117A (believed to be part of a unit known as the "Dark Knights") has deployed to Georgia (and, to our knowledge, this is the first time the Stealth Jet has deployed on the East Coast) and is currently participating in Sentry Savannah.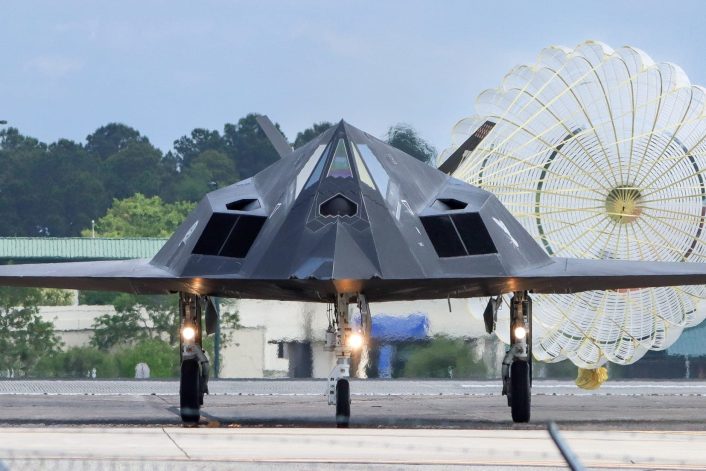 The plane, registration 84-0828, along with the tail code 'TR', features a 40-year-old logo on both tails: it's the first time we've seen an emblem celebrating the 40th anniversary since the flight inaugural which took place on June 9. 18, 1981.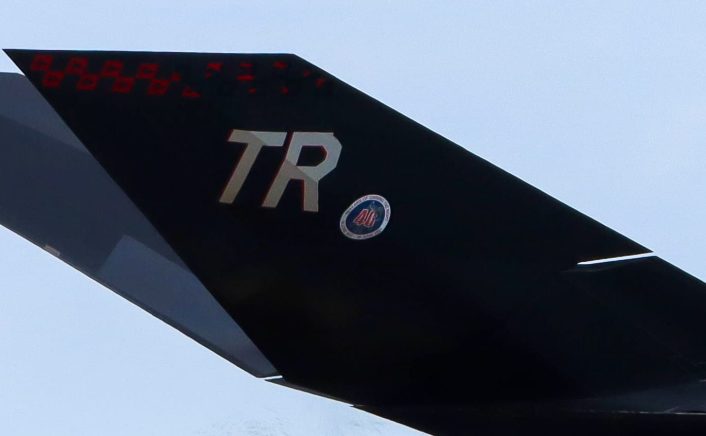 According to our sources, two F-117s were initially scheduled to take part in the exercises, but one of the two aircraft eventually made the trip from Nevada to Georgia. The other Nighthawk is expected to remain in Savannah and play a role in Sentry Savannah for the first week of the exercise only. At the moment, the "Wobblin Goblin" makes two outings a day.
As explained in various articles, while some of the F-117s that were retired in 2008 and initially kept in a "Type 1000" storage at Tonopah Test Range have now been dismantled and transferred to museums across the United States, the F-117s continued to fly. We reported sightings in 2018, 2019, 2020, 2021 and 2022. After all, the F-117s are not completely retired, quite the contrary.
As of January 2021, the US Air Force still had 48 F-117s in its inventory. The service has about four aircraft each year, which means +40 should still be available. The jets perform the adversary stealth role allowing US squadrons to perform DACT (Dissimilar Air Combat Training) against a LO (Low Observable) aggressor and are also meant to simulate cruise missiles evading radar in various exercises. The Nighthawks are most likely also involved in the development and testing of stealth or counter-stealth technologies and tactics, such as some photographs showing at least one airframe sporting a mirror-like coating similar to that applied to two F-22s (one that appeared fairly recently) and to an F- 35, seem to prove.
A few weeks ago, the iconic stealth jets teamed up with US Marine Corps F-35 Lightning IIs involved in the Lightning Carrier demo integrating with the F-35B Lightning II aircraft attached to the Marine Fighter Attack Squadron ( VMFA) 122 operating from the flight deck of the amphibious assault ship USS Tripoli (LHA 7). Previously, the Nighthawks had conducted DACT with F-35Bs of Marine fighter Attack Squadron (VMFA) 225 "Vikings" of Marine Aircraft Group (MAG) 13, 3rd Marine Aircraft Wing, US Marine Corps, deployed to MCAS Miramar from MCAS Yuma.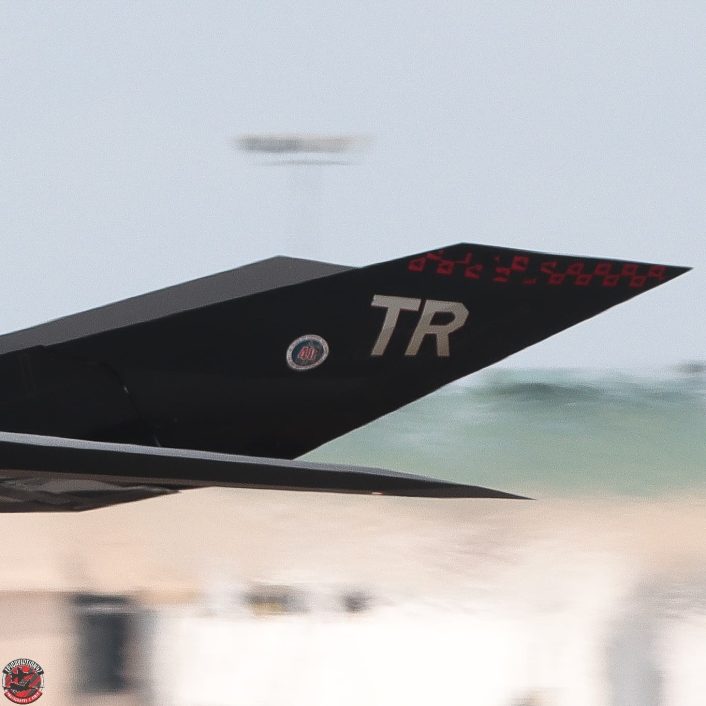 One last comment.
We were talking about the Air Dominance Center in 2018, when we posted a snapshot showing a Chengdu J-20 Mighty Dragon replica parked in front of the ADC in Savannah: a few days later, we had confirmation from Col. Emmanuel Haldopoulos, Commanding Officer of the Savannah Air Dominance Center, that the aircraft was "a full-scale replica and remained at the Air Dominance Center for a short time during the week of December 4-6 [2018]. The USMC finances and directs the training objectives of this system […]".
The J-20 replica eventually made its way to Marine Corps Auxiliary Landing Field Bogue, or "Bogue Field", an airfield that serves as the Marine Corps East Coast site for landing practice Aircraft Carrier (FCLP) and Aircraft Carrier Qualification: Chinese Stealth. The mock-up fighter could be clearly seen parked on the left edge of Bogue Field's north apron in a satellite image dated March 12, 2019. We don't know what kind of visual training or sensing it was supposed to support there- bottom: this may be some sort of use of a night/day attack jet or helicopter pod or long range targeting in a simulated attack on an airfield enemy. Still, interesting.
A big H/T to our friends Misael Ocasio Hernandez and Gherardo Fontana for the images of the F-117 that you can find in this post. Be sure to follow them on Instagram for even more outstanding photos.