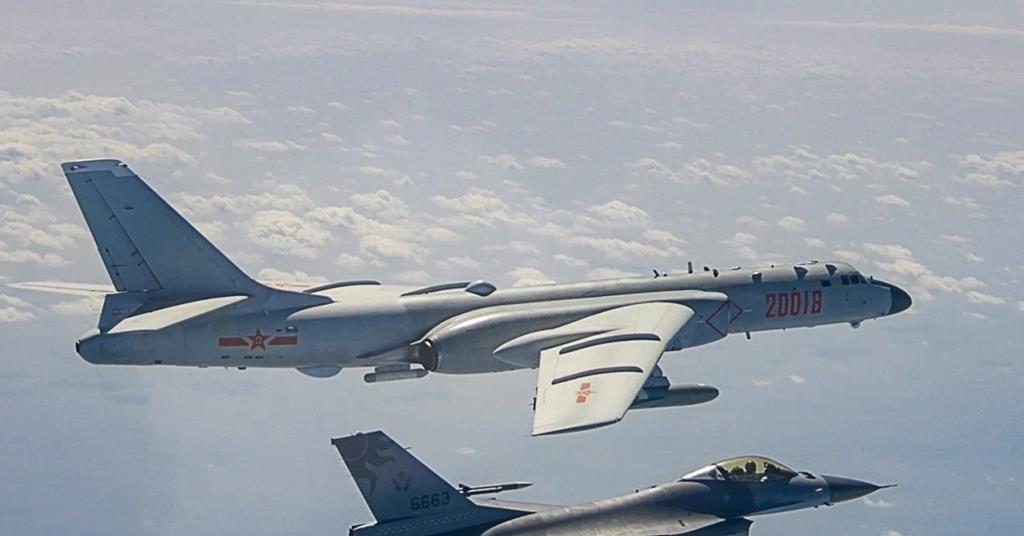 China sends nearly 70 planes to Taiwan Strait, while US jets watch west | New
The People's Republic of China (PRC) sent nearly 70 military aircraft to the Taiwan Strait on August 5, as part of aggressive live-fire military exercises China is conducting in the region.
Defense officials in Taiwan, the self-governing island that calls itself the Republic of China (ROC), reported the sorties and said via Twitter that 49 of China's People's Liberation Army (PLA) planes crossed the so-called middle line of the strait, which serves as an unofficial border.
"The recent coercion of the PRC exercises around us was aimed at changing the status quo of the Taiwan Strait, violated our sovereignty and caused tension in the Indo-Pacific region," the Ministry of National Defense (MND) said. of ROC in a tweet. "The ROC Armed Forces seek no escalation, but we succumb to no challenge and respond with reason," the ministry added.
The drills were launched following a visit by a senior US official to Taiwan on August 2. The PRC considers Taiwan its sovereign territory and has long discouraged other countries from engaging in official diplomacy with Taipei.
According to the MND, most of the PLA aircraft involved in the August 5 incursions were fighters, including seven Shenyang J-10s, six Shenyang J-11s, 10 Shenyang J-16s and 24 Sukhoi Su-30s. Two Xian Y-8 turboprops configured for airborne early warning anti-submarine warfare also crossed the center line.
ROC defense officials note that it activated defensive anti-aircraft missiles, dispatched combat air patrols to intercept PRC jets, and issued radio warnings.
China regularly sends military planes into the Taiwan Strait, but such occurrences have become more frequent in recent months, according to MND figures. The day after US House Speaker Nancy Pelosi visited Taipei, the PLA sent about two dozen jets across the median line.
Ongoing exercises, which include firing live missiles into the strait, have led to the rerouting or cancellation of several commercial flights in the region. Civil aviation regulators in Singapore, Vietnam and Thailand have since urged their carriers to avoid airspace around Taiwan during the Aug. 4-7 period specified in China's exercise notice.
PLA Exercises Day 2: The US Army is strengthening aerial ISR operations around the island of Taiwan, at least 1 RC-135S, 1 RC-135V, 3 P-8As, 1 E-3G, 1 U-2S are on place, supported by 6 KC -135 tankers, 5 Aug. #Pelosi#Taiwanpic.twitter.com/VlzRE7qUeN

— SCS Survey Initiative (@SCS_PI) August 5, 2022
Additional information about the August 5 incursions was not immediately available. The MND website, to which the ministry's official Twitter account directed users, was unavailable. The Taiwan Military News Agency reports that the MND site was offline after being hit by a cyberattack.
Several other ROC offices were also disrupted by similar attacks.
Besides the military drills, the Chinese Foreign Ministry also said on August 5 that the PRC is withdrawing from several scheduled meetings with the United States on military coordination.
"The world must never allow the United States to see itself as a 'world policeman' or an 'international judge,'" the Chinese Foreign Ministry said on August 5 in a statement posted on Twitter, which describes the United States as intimidating and strangling other nations "at will".
1. Cancellation of the Sino-American theater commanders conversation.

2. Cancellation of the China-US Defense Policy Coordination Talks (DPCT).

3. Cancellation of China-US Maritime Military Consultation Agreement (MMCA) meetings.

4. Suspend Sino-US cooperation on the repatriation of illegal immigrants.

—刘晓明Liu Xiaoming (@AmbLiuXiaoMing) August 5, 2022
The South China Sea Strategic Situation Probing Initiative (SCSPI), which describes itself as an international research organization monitoring and publicizing developments in the region, reported on August 5 that several US military planes were also flying in the skies just outside China. western Taiwan.
The group, which says it is funded by donations, has tracked at least two US Air Force Boeing RC-135 reconnaissance planes, three US Navy Boeing P-8 Poseidons, one US Navy Boeing E-3G Sentry Air Force Control System, an Air Force Lockheed Martin U-2S high-altitude reconnaissance aircraft, as well as six Boeing KC-135 Stratotankers.