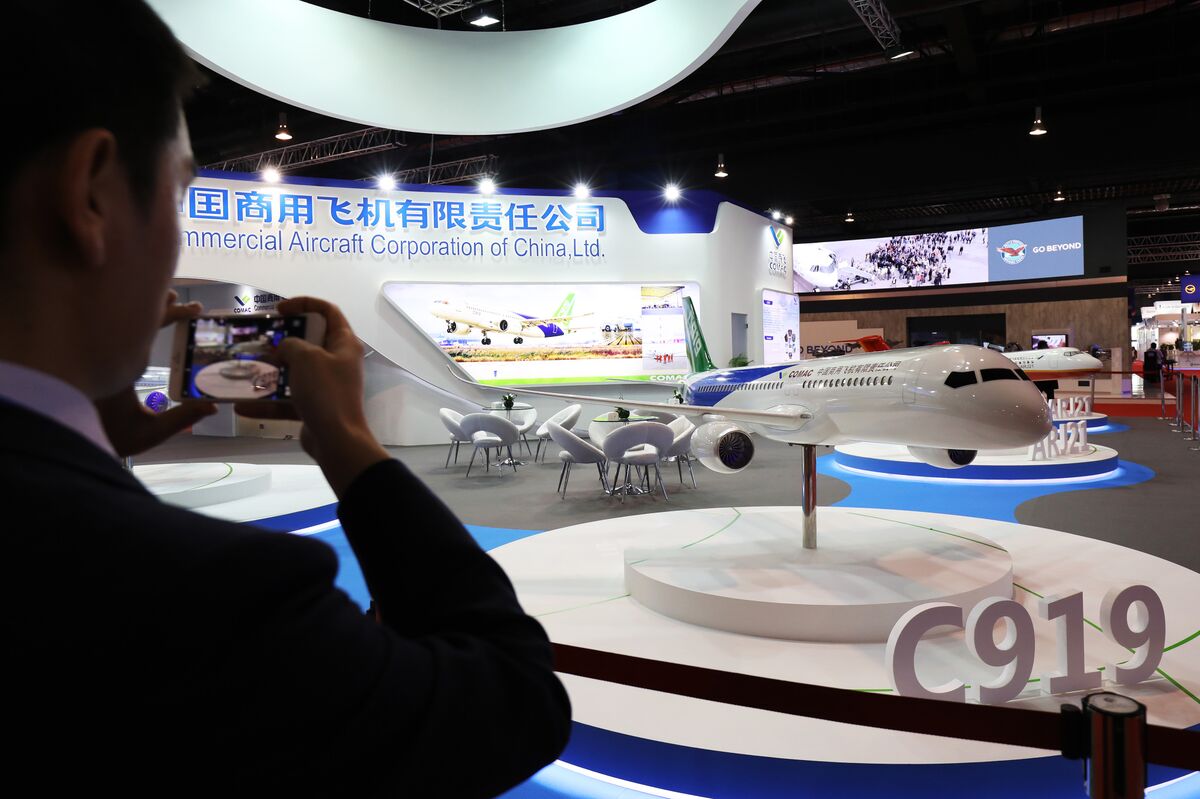 China-made narrow-body planes could threaten Boeing and Airbus markets
Boeing and Airbus could be threatened by Chinese narrow-body planes
According to Boeing's research, China will need 6,500 new single-aisle jets over the next 20 years, while 1,850 new jumbo jets, including passenger and freighter versions, would be needed.
The C919 narrow-body aircraft of the Commercial Aircraft Corporation of China (CACC) received type certification from the Civil Aviation Administration of China (CAAC) (COMAC) at the end of September.
Shanghai serves as the headquarters of state-owned COMAC, founded in 2008.
Type certification of an aircraft issued by a civil aviation authority means that the design of the aircraft and each of its parts has been approved. It states that the design meets all applicable standards for noise, airworthiness, fuel ventilation and exhaust emissions. Before a plane can take off, it's the last significant test. Since Airbus and Boeing have long held a monopoly in the aviation industry, COMAC certification marks the arrival of a new aircraft manufacturer.
China's progress
As a state-owned company, like many Chinese airlines, analysts predict COMAC's C919 will have little trouble finding a market in China. "The Chinese aircraft market is quite competitive, like India. A pilot who requested anonymity because it is against company policy to speak to the media noted that this creates a natural demand for the COMAC C919 aircraft.
The pilot might be right. To meet its growing demand for commercial air travel, Boeing has predicted that China will need an additional 8,740 aircraft by 2040. China will need about 6,500 new single-aisle aircraft over the next 20 years, according to Boeing's research, while the widebody fleet, which includes passenger and cargo types, would require 1,850 new planes.
According to Ishka Advice, a global provider of aviation data, information and advisory services, Airbus and Boeing have primarily been battling each other in the consumer narrowbody market for years. By obtaining CAAC type certification for the C919, COMAC is now close to the competition. "This is an important milestone for China and depending on when production certification might be achieved, it could become an interesting challenge for incumbent OEMs with their popular 'neo "(Airbus narrow-body aircraft) and 'MAX' (Boeing narrow-body aircraft) for China, the world's second-largest market," notes Ishka Advisory.
While COMAC provides long-term competition to both Boeing and Airbus, it is currently only present in the Chinese market, according to Satyendra Pandey, managing partner, aviation consultancy, AT-TV.
Despite this confidence, several factors suggest that the future of the Chinese manufacturer may not be as promising. The aircraft will first have to demonstrate its capabilities during commercial flights. That involves millions of uninterrupted flight hours, according to Pandey. He goes on to mention the subject of aircraft liquidity. "It is unlikely that there will be buyers for this aircraft other than China given the geopolitical circumstances. It is debatable whether the economics of the aircraft will also attract carriers in this case.
An Airbus spokeswoman responded to a request for comment on the implications of this event for Airbus and Boeing in the global market, saying, "Congratulations to COMAC on receiving type certification for the C919." Boeing remained silent. Moneycontrol has contacted COMAC for comment on the new plane but has not yet received a response.
Boeing and Airbus strongholds
COMAC should not compete with Boeing or Airbus, according to some industry players. An expert notes that the only reason Regional Jet competitors Embraer, Bombardier, Mitsubishi and Sukhoi are still in business is because they choose not to directly compete with Airbus or Boeing. Even back then, a strategic alliance like Bombardier-Airbus was needed to take full advantage of Airbus' marketing support for the (Bombardier) C-series aircraft (since rebranded as the A220 family).
Similarly, Embraer and Boeing have engaged in a crossover to position the latter's E-Jets to target the 100-130 passenger market immediately below the 737 families using Boeing's marketing initiatives.
Despite using Western engines, the expert predicts that a C919 that directly competes with Airbus or Boeing will fail to reach international markets.
India's reluctance to bite
Could the C919 be a third option for Indian airlines wishing to increase their fleet given that India also needs narrow-body aircraft?
According to Nripendra Singh, Global Director, Aerospace and Defense, Frost and Sullivan, the C919 will not be accepted in the Indian market due to three to four "fundamental determinants", including the fact that the new aircraft has not yet received certification. of any international aviation regulator outside of the Chinese.
"For an Indian airline to accept a new type of aircraft, it is also vital to consider the issue of the supply chain and the maintenance of the new machine if it is grounded. According to him, COMAC does not yet have a ready supply chain for spare parts.
Finding qualified pilots to operate the new generation of aircraft is another issue facing Indian carriers.
The cost of the new plane is another justification offered by Singh. He points out that COMAC said the plane would cost around $50 million when first conceptualized, less than half of what an airline would spend on a plane of the same type made by Boeing or Airbus. Singh, citing numerous accounts, claims the cost of the C919 has since risen to around $100 million. According to him, the C919 is currently being assembled in China with all necessary components, such as avionics and engines, coming from overseas.
Others list other reasons why the C919 will struggle. According to a senior Indian airline commander and trainer, the C919 is unlikely to gain momentum as Indian and international carriers focus on introducing hybrid technology aircraft.
Major airlines in India and around the world are focusing on the use of sustainable aviation fuel and blended wing design technologies. As the aircraft is based on current designs, the C919 will not help any Indian or foreign carrier achieve this goal, the commander continues.
For a global certification, there will be a long wait
It will likely take the Chinese government ten or more years of domestic or regional flights before it can convince the European Aviation Safety Agency (EASA) or the US Federal Aviation Authority (FAA) of the airworthiness of this plane. This is another reason why the C919 has not found a market in India or elsewhere, according to analysts and pilots, is another reason why the aircraft has not been successful.
Second, the question of whether foreign aircraft lessors, who benefit from the safety of proven assets from Boeing and Airbus, will switch to COMAC. An airline executive who has been involved in discussions for his airline to lease planes asserted that "none except Chinese lessors will buy the C919, even if it was inexpensive, it would prevent its spread to other countries."Indian fleets consist of aircraft that have been leased rather than those that would have cost millions of dollars to purchase. It is believed that more than 80% of Indian carrier fleets nationals are rented, compared to a global average of around 53%.
Related