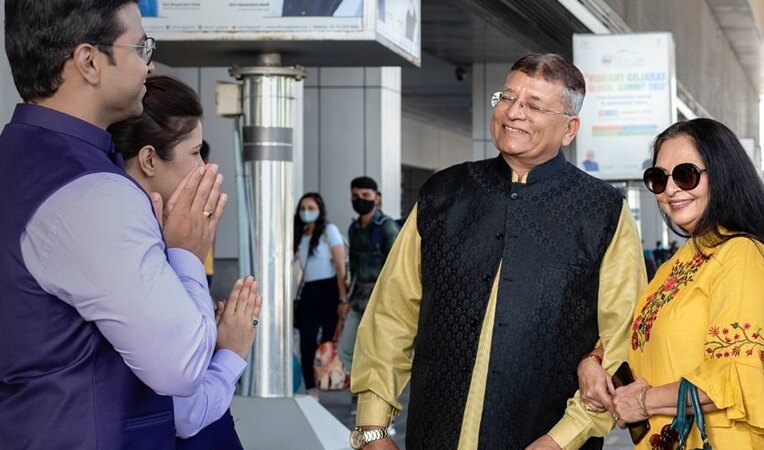 All About Meet & Greet Service at Major Indian Airports for International Travelers
Chennai International Airport has recently started offering the meet and greet service to travelers to and from Chennai. The Meet and Greet facility at major Indian airports is a passenger-friendly initiative either by the Airports Authority of India (AAI) or a private entity. This chargeable facility, in addition to basic airport assistance services, is a great help for the elderly, disabled, pregnant women and unaccompanied minors requiring assistance for a hassle-free arrival or departure, expedited immigration, smooth transfer from the aircraft door. /from the arrivals area to the exit or from the entrance to boarding, etc.
You can avail meet and greet service also at New Delhi IGI Airport, Mumbai CSMI Airport, Ahmedabad Airport (AMD), Hyderabad RGI Airport, Kolkata Netaji Subhash Chandra Airport and Kochi International Airport. AT Chennai Airport MAA, meet and greet service counters are located in the departure and arrival halls. Speed ​​Wings, which won the tender for the Chennai Airport Meet & Greet service contract, has established a team of over 350 members to meet the needs of travelers opting for the service . The same agency also provides the meet and greet service at Kochi airport.
At major airports in India, the meet and greet service comes in different packages, in terms of cost and features, for both domestic and international passengers.. Chennai Airport meet and greet service can be availed in three packages: Bronze, Silver and Platinum. "Meet at Aircraft Gate" is the mainstay of all three packages. While "Expedited Immigration" is unique to the Bronze package, "Doorman Service" for baggage assistance is built into the Silver package. The most expensive Platinum package includes all meet and greet services, such as Meet at Aircraft Gate, Expedited Immigration, Porter, and Buggy Transfer.
Mumbai International Airport: Meet and Greet Service
The meet and greet facility at other Indian airports is known as Pranaam Service at Mumbai International Airport. Many seniors traveling unaccompanied flights to Mumbai from the United States and other countries have opted for Pranaam service for hassle-free arrival at Mumbai airport during the peak of bubble travel amid volatile pandemic-induced regulations and restrictions. "Some of our customers have requested booking Pranaam service while purchasing international air tickets to Mumbai during the pandemic, but the service can only be booked through CSMI Mumbai airport website," said IndianEagle.com's ticketing manager.
Mumbai Airport Pranaam service is available in three packages: Elite, Platinum and Group Platinum. Reception by a dedicated Pranaam agent, mobility assistance for passengers with mobility difficulties, assistance with hand luggage, retrieval of checked-in luggage from a baggage carousel, advice on Immigration and dedicated porter service are some of the main features of the Mumbai Pranaam from Mumbai International Airport. service packages have in common for arrivals and departures. The Pranaam Elite package costs a bit more than the Pranaam Platinum package. While the former is priced at Rs 6859 per international traveler (adult), the latter costs an international traveler Rs 5850. The packages cost less for children under 12 than for adult travellers.
The Platinum Group package of the Pranaam meet & greet service can be booked for a minimum of five people traveling together. An additional amount may facilitate the inclusion of more than 5 travelers in the group package. The same service is also available for the departure and arrival of domestic travellers. The booking details for Pranaam service from Mumbai airport are below:
+91 8879992397/98/99 and +91 22 6685 1211
OFFICE ADDRESS
Pranaam Customer Service,
Mumbai International Airport Limited,
Level 4 Terminal 2,
Chhatrapati Shivaji Maharaj International Airport
Delhi IGI Airport Assistance: Meet and Greet Service
Assistance at Indira Gandhi International Airport includes a meet and greet service that supports an international or domestic passenger's travel needs at the airport before departure, after arrival and during transit. With booking meet and greet services, you can skip the long check-in lines and avoid the hassle of immigration at New Delhi International Airport. This chargeable service minimizes the time that airport formalities require some groups of international travelers to spend at the airport. IGI Airport's Meet and Greet (DEL) service includes personal multilingual assistance to facilitate communication between regional language speaking travelers and airport staff.
The service can be booked online here.
Ahmedabad International Airport: Welcome Service
Sardar Vallabhbhai International Airport offers Pranaam Meet and Greet service inspired by Indian cultural ethics for customers. Designed to provide travelers with a unique experience at Ahmedabad Airport, the service is imbued with warmth and attentiveness. Available in customized packages, the Pranaam Meet and Greet service is delivered by a dedicated Guest Relations Manager who is attentive to traveler needs.