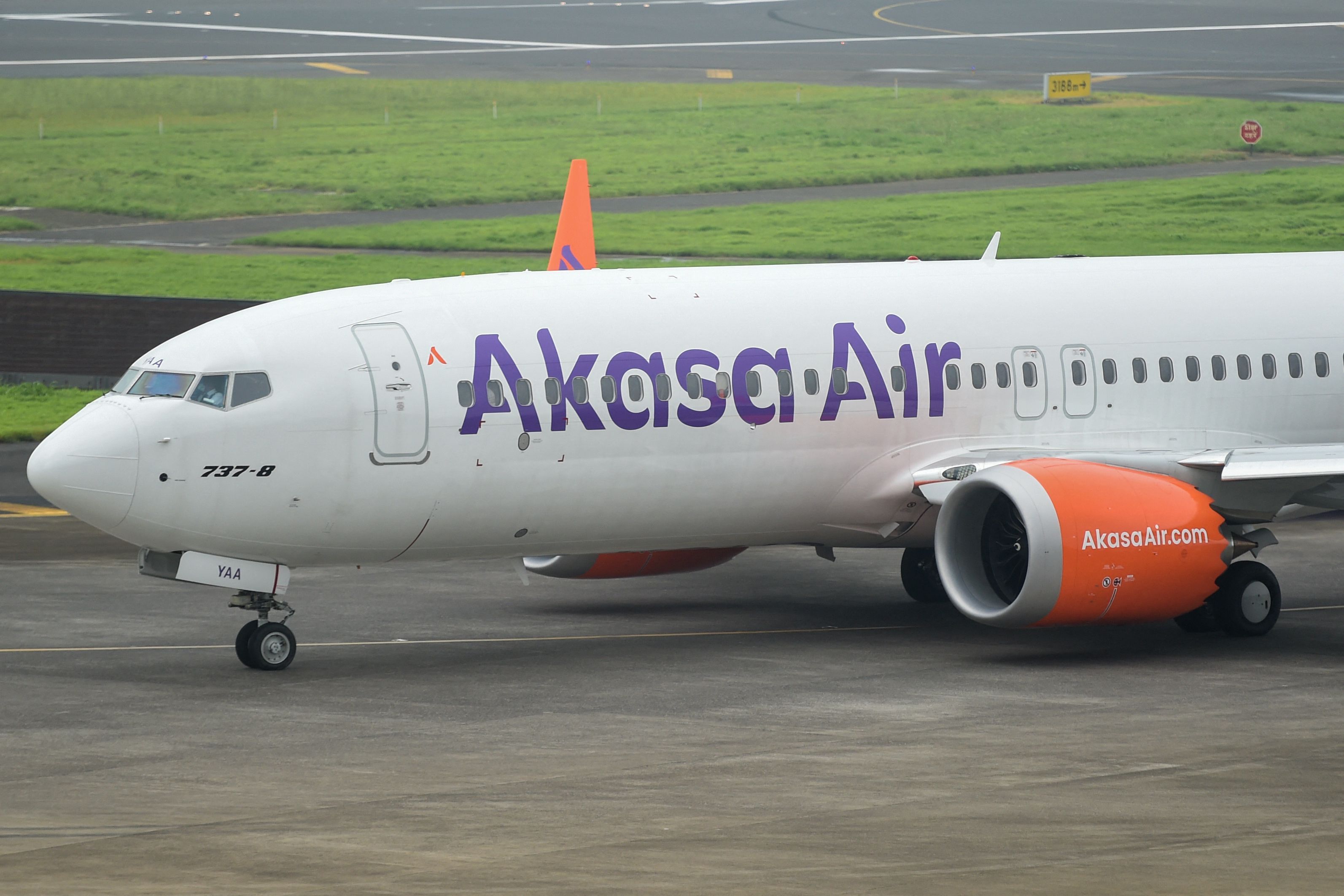 Akasa Air modifies aircraft interiors due to supply chain issues
Global supply chain issues have now reached Akasa Air, affecting the seating configuration of its upcoming deliveries, among other issues. The airline has announced that the overall delivery plan for its planes remains unchanged, but for a few months some of its 737 MAX will fly with fewer seats that will be slightly different from standard.
Fewer seats, different upholstery, no USB
Akasa Air said some of its Boeing 737 MAX aircraft will have 174 seats instead of 189. Passengers can also expect USB to be missing from some seats and upholstery to be a different color than the current purple scheme. .
Photo: Akasa Air
The modified aircraft will have the front three rows in a 2×2 configuration resulting in better width. While fares for these seats will remain the same as regular seats, Akasa will optionally charge ₹2,500 ($30.76) for seat selection for these rows. For other rows, it will continue to charge ₹1,500 ($18) for seat selection. The airline said,
"Akasa Air will continue to operate an all-economical single-aisle service at affordable fares with no change in its pricing strategy. According to our current roadmap with our partners, the 2×2 seating configuration will be standardized over the next six to nine months. With this, our original 189 seats will become available as we overcome the supply chain impact.
Deliveries are not affected
Akasa Air has placed an order for 72 Boeing 737 MAX aircraft powered by CFM engines. Its initial plan is to secure deliveries of 18 aircraft through March next year. The carrier stressed that the current changes only affect the interior of the aircraft and that the airline does not face any engine shortages like rivals IndiGo and Go First.
Dube mentioned,
"Our first 20 aircraft are fitted with engines, so we are confident that there will be no delivery issues and they will not be affected by our first 20 deliveries. no further indication or official communication from Boeing that this will affect delivery from 21″.
Photo: Akasa Air
Dube also clarified that the current changes will have no effect on the company's overall business strategy and there are no plans to introduce premium class seats. In fact, the 2×2 seats will be reconfigured in the coming months once supply chain issues are overcome.
Once the initial program is completed, Akasa will begin accepting aircraft with higher density, which will include 197 seats. According to the airline, it will also start planning international routes next year soon after reaching the 20 aircraft mark required by the Indian regulator.
What is your opinion on that? Please leave a comment below.