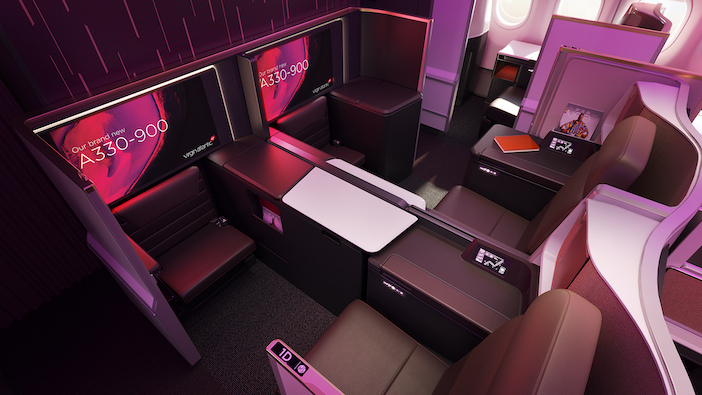 A next-gen experience for Virgin Atlantic's next-gen fleet
Last night at an event in London's trendy Shoreditch district, Virgin Atlantic unveiled the interior fittings of its forthcoming Airbus A330-900neo, which had a few surprises in store. New seating choices, an updated social area and a new space-saving travel class were highlights.
') } // –>
Work on the new cabin designs began in 2019, when Virgin Atlantic placed an order for up to 16 Airbus A330neos, to create fuel (11%), carbon (11%) and contour reductions. airport noise (50%) compared to A330. -300 fleet that aircraft directly replace. The average age of the airline's aircraft fleet is now just under seven years, made up of 68% new-generation aircraft, which will increase to 100% by early 2027.
So what does the A330neo passenger experience hold? Some may have expected Safran's Cirrus NG suites to feature in the upper class, for consistency with the A350 fleet (full A350 upper class cabin design details here). However, the airline opted for Thompson's Vantage XL, a forward-facing offset seat that offers a flat bed, direct aisle access, a relaxed lounge position for take-off, a privacy wing, a "honeymoon" option for the center double, and customizable storage spaces (Virgin Atlantic worked with Thompson on a custom closable overhead storage space, with a lightning bolt of Virgin's red trademark inside).
Virgin Atlantic also dove into the list of options for the 30 upper-class suites, with fully closing privacy doors (good for seats closer to the aisle), translucent dividers, "do not Disturb" to ensure undisturbed sleep and mood-controlled passengers. lighting. The VantageXL can accommodate IFE monitors up to 20 inches, but Virgin has opted for 17.3-inch screens (as with Virgin's A350s, Safran Passenger Innovations' RAVE systems are installed throughout the aircraft).
VantageXL is a solid choice, space-saving for Virgin, comfortable for passengers and a consistent level of experience with suites flying with JV partner Delta. Some may have expected a unique or more heavily customized seat, but amid a recovery period for aviation, there's a lot to be said for embracing a proven design in terms of certification and user experience. passengers, in order to minimize the risk of the unknown.
The front row is where things get even more interesting. Thompson worked with Factorydesign throughout the development of the Vantage line of chairs, and they cooked up something really clever a few years ago when they realized an often underutilized space could be taken out of the monument. in the first row and given to the first row of business class, to create a J+ suite. Factorydesign dubbed the idea "First Class for Free", and although its early adopters were Shanghai Airlines for its B787-9s (see how it works HERE) and Malaysia Airlines (A350), seeing it again in person at the Virgin Atlantic's reveal event reminded me just how dramatic the effect is.
The center front row double rooms are dubbed the Retreat Suite, the most spacious suite in Virgin Atlantic's history, measuring approximately 6ft 7in in length – long enough for the ottoman to be used as a proper seat for meals together. This companion better be entertaining, as it will block the view of the 27-inch IFE screen, which is a treat for movie buffs. As a single seat, the Retreat Suite is a great experience, and reasonably priced too, as design manager Henry Buckley noted at the launch event that it could be available for a premium of 200 £ compared to the upper class.
If two people traveling together book both Retreat Suites, they can create something truly special. Lower the central divider, close the double doors and a luxurious and super spacious shared space is created. Bring two other people in a party, or even new friends made in The Loft (see below), and it's a comfortable, open space for four, with large tables for eating, playing cards, working or All they want. you may wish to do. The beanbags are big enough for a comfortable experience with back support – no perches here.
Upper Class and Retreat Suite guests can all access Bluetooth connectivity and wireless device charging in the seat. They can also access The Loft, which has received many updates for the A330neo.
The Loft
Door 2's social space, The Loft, serves as a welcome area for all A330neo passengers and an in-flight meeting area for upper class passengers.
The idea for The Loft was born with Virgin's A350-1000, moving away from a purely bar space, towards a lounge space with a perch bar. I happily explored the area before judging it for the 2020-2021 Crystal Cabin Awards, in which it took second place in the Cabin Concepts category.
For the A330neo, the Virgin Atlantic team decided to move further away from the bar idea, to create an updated lounge area. The team worked with Factorydesign and AIM Altitude to create an eight-person space, including four seats, where guests can chat, watch content on the two 27-inch widescreen IFE screens, and also hear it if they connect Bluetooth headphones.
They can also help themselves to refreshments from the new self-service fridge, freezer and beverage dispenser. A nifty feature is that the crew can discreetly load stock for the beverage dispenser from a drawer on the far side of the galley. The cans slide silently out of the front of the dispenser as if by magic, isolating passengers from the mundane replenishment of stock – but it's just a very simple system, unlikely to cause maintenance problems.
The seats are a little higher than those of the A350 Loft, which means that the knees are less in the way, making it easier to pass and reach the refrigerator or the other aisle, with a bar footrest to help smaller passengers feel comfortable. As with all of Virgin Atlantic's social spaces, the ceiling has received a great deal of design attention, to create a distinct experience.
Prime
The 46-seat premium economy cabin will be familiar from the A350, with the Collins Aerospace MiQ carried over. This seat is a solid choice, good enough that Collins also offers it as a narrow-body business class seat, and it has won over other customers including American Airlines, Cathay Pacific and Air China.
The Virgin Atlantic Premium Experience offers a 38-inch pitch, up to 10-inch recline, calf pads at every seat, four-way adjustable head restraints, 13.3-inch IFE touchscreens with Bluetooth audio , in-seat power including wireless chargers, and satisfyingly sturdy and large folding tables. Topped with a tasteful burgundy, the Premium experience is overall among the best around.
Economy
The Virgin Atlantic team created a sleek and comfortable look for the Economy Class seats, with a pleasing mix of textiles and 31-inch pitch for the 156 Economy Classic seats. Seating is Recaro's CL3710, fitted with 13.3-inch IFE touchscreens, Bluetooth connections for headphones or for using a smartphone as a controller, and mains power (a socket shared between each pair of seats ) and USB ports.
Customers can upgrade to the 28 Economy Delight seats found among the outboard pairs, which offer 34-inch seat pitch and can be identified by their brighter red stripe on the back cushion.
Stay connected
Throughout the aircraft, passengers can access Viasat's in-flight connectivity system, which will be installed online on each of the 16 A330-900s at the Airbus Center of Excellence in Toulouse, France. Passenger devices can connect directly to Viasat's network of owned and partnered Ka-band satellites, a system that creates needed capacity on key Virgin Atlantic routes between major airport cities and on busy flight corridors.
Viasat says the connection will be strong enough to allow full video streaming, web browsing, messaging, social media scrolling and more. The A330neos on-board equipment will also be compatible with Viasat's next-generation satellite constellation, ViaSat-3, which will provide additional capacity and extended global coverage.
Virgin Atlantic is always an airline to watch, and we plan to expand on the thinking behind the A330neo cabin design for the next issue of International aircraft interiors.
From September 2022, Virgin Atlantic will take delivery of the first three aircraft, with the remaining deliveries to follow between 2023 and 2026.
The first customer flight of the airline's The A330neo will be from London Heathrow to Boston, scheduled for early October. Tickets will go on sale later this month.